Wednesday
Mar.29, 2017
4:00 p.m.
Annual Meeting and Awards Ceremony
with speaker Preston Manning
on on Oil Sands Development – A Backward and a Forward Look from the Manning Perspective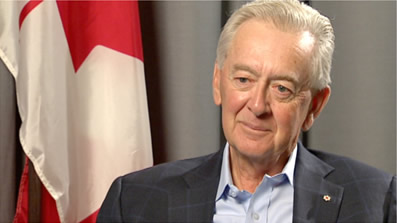 "In the early 1960's, two gentlemen in their late seventies walked into the office of Alberta Premier, Ernest C. Manning, claiming they could build a commercially viable oil sands extraction plant in the province when all previous attempts to do so had failed. The one gentleman was J. Howard Pew, head of Sun Oil, scion of one of the wealthiest families in the United States; the other was Clarence Thayer, his chief engineer.
As a twenty year old with an interest in all things Alberta I was privileged to sit in on a number of the discussions between my father and Pew on this subject which eventually resulted in the opening of the Great Canadians Oil Sands plant at Fort McMurray in 1967.
It is always a privilege to meet with Albertans who cherish the history of our great province, and I look forward to sharing my recollections of the origins of the commercial development of the oil sands."

Preston Manning, P.C., C.C., A.O.E., is Founder and President of the Manning Centre, which he established in 2005. Born in 1942, Preston is the second son of long time Alberta Premier Ernest C. Manning. Growing up in a political household he became intimately familiar with western Canadian political history and the operations of his father's political party and government. He graduated from the University of Alberta with a B.A. in Economics and provided consulting services to the energy industry for twenty years before entering the political arena. Preston served as a Member of Parliament from 1993 to 2001. He founded two political parties - the Reform Party of Canada and the Canadian Reform Conservative Alliance - both of which became the Official Opposition in the Canadian Parliament, and laid the foundation for the new Conservative Party of Canada. He served as Leader of the Opposition from 1997 to 2000 and was also his party's science and technology critic. In 2007, he was made a Companion of the Order of Canada and in 2013 was appointed to the Privy Council. He has received honorary degrees from the University of Calgary, University of Alberta, Southern Alberta Institute of Technology, Tyndale University College, York University, University of Toronto and Carleton University. Mr. Manning resides in the city of Calgary with his wife, Sandra. The Mannings have five grown children and eleven grandchildren.
Meeting Agenda:

4:00 - 4:30 p.m. President's Report, Treasurer's Report, Election of PHS Officers and Board for the 2017-2018 term
4:30 - 5:00 p.m. 2016 PHS Awards
5:00 p.m. Keynote Speaker: Preston Manning
5:45 p.m. Questions, Answers and Discussion
6:00 p.m. Mix and Mingle with snacks and cash bar
Wednesday
March 29, 2017
4:00 p.m.

Calgary Petroleum Club
McMurray Room
319 - 5 Ave SW
Business casual dress, ties not required

Please reply if you wish to attend
no later than noon, Monday, March 27, if not sooner
to: Micky Gulless 403-283-9268
or micky@petroleumhistory.ca

$20 PHS Members, Student Members and Guests (most welcome)
Cash or cheque only at the door

To pay in advance by credit card or email, please tell us when you reply and we will email a PayPal invoice or instructions.

Those who RSVP but do not come, or cancel after the deadline, will be invoiced.
Those who do not RSVP by the deadline may not get a seat.