Preserving our history, now for the future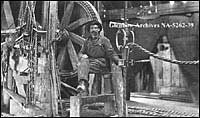 Joseph Brown, Assistant Driller, Dingman #1 well (Calgary Petroleum Products #1), Turner Valley, Alberta.
Circa 1914-1917
(Glenbow Archives NA-5262-39)
What We Do
We are a Calgary-based group, entirely run by volunteers. Our regular activities are lunches with speakers and Archives newsletter about 8 times a year. We have conducted 3 oral history projects and are always looking for new projects. We welcome anyone with an interest in petroleum history and have members from many segments of the industry.
Telling Our Story
The history of the Canadian petroleum industry is the story of Alberta's foremost industry. And the Petroleum History Society is a group of volunteers dedicated to preserving that story and telling it. See our brochure.
Join Us
Your participation in the Petroleum History Society will help preserve the past, including the stories of the many companies that have come and gone. Your support can also help the generation succeeding us preserve the next chapter.